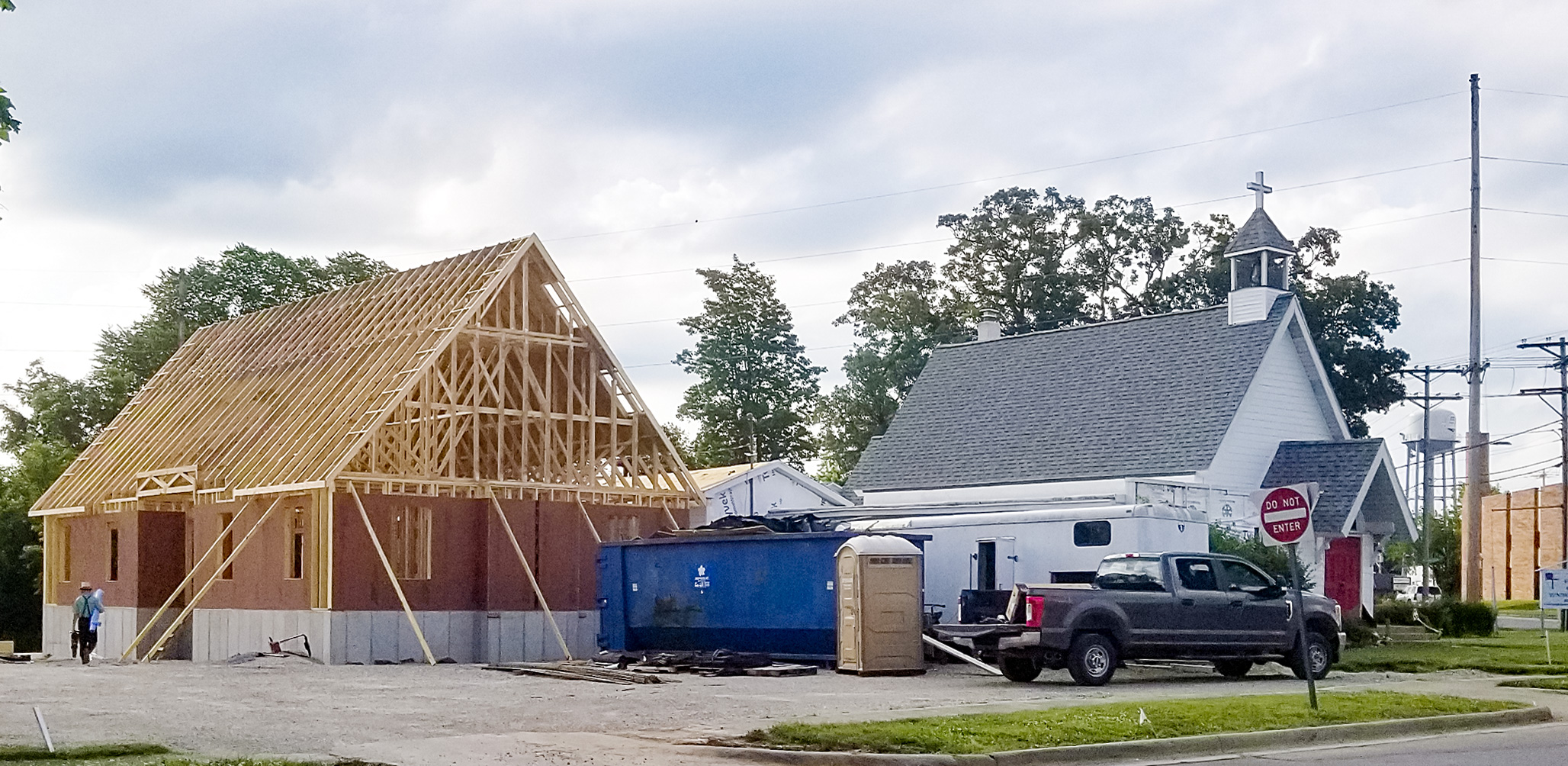 New buildings and parking lot at Trinity, Lebanon. Image credit: Fines Massey – Laclede County Record
Some say there's a secret behind the huge growth of Trinity Church in Lebanon, Missouri. The truth is, there isn't. There were no campaigns, mass mailings, door hangers, or corner evangelizing. Nevertheless, in the last ten years, Trinity's congregation has doubled on paper, and weekly attendance at services went from fifteen to fifty! Leadership becomes the clear catalyst for this growth, but there is much more to it. 
The church itself has remained in the same location for 150 years. However, twenty years ago, Trinity Church had the opportunity to buy the lot next door, but since there was no clear plan for the newly purchased property, they knocked down the old house and turned it into a green space. Fast forward to 2012, the rector of Trinity Church retired along with Fr. Jerry Miller, the rector of St. John's in Springfield. Fr. Jerry had no intention of finding a job. He had been ordained in 1975 and was looking forward to a relaxing retirement until boredom set in. At about that time, a member of Trinity asked him if he would be the supply priest at Trinity until a new rector could be hired. It was such a good fit; he never left and is now part-time as Priest-In-Charge. 
He started visiting people who had left the church, visiting people in the hospital and in their homes sharing prayers and God's message.
Fr. Jerry readily says he is an old-fashioned priest who believes pastoral care is his primary job. He started visiting people who had left the church, visiting people in the hospital and in their homes sharing prayers and God's message. He also joined the Rotary Club and Ministerial Alliance in the community. Amanda Perschall, Diocesan Council Member, and congregant at Trinity, said the involvement in the community didn't stop with Fr. Jerry. Members of the church became actively involved in the food bank, women's shelter, and afterschool program for teens in the area. Everyone spread the word about how great Trinity was by their joyful help to those in need.  
Slowly, the community responded. A diverse group of new members were coming to Sunday services from as much as 40 miles away. Karen Miller, past Bishop's Warden, said not only were people coming to services, but they were also getting involved in activities at the church and in the community. Soon discussion was generated about what to do with the property they had acquired but never did anything with except mow the grass. More parking was an immediate concern, but Fr. Jerry thought they could do more. 
The old nave was in dire need of updating, and they were lacking in space. Without a huge capital campaign, they decided to use the money that had been bequeathed to the church some years ago to build on the property. Several members also made generous donations to the effort, and everyone pitched in. 
The Vestry decided to keep the old nave but remodeled it. Plans were drawn up to add a building for offices, classrooms, a nursery, and a choir room in addition to increasing parking. As fate would have it, the pandemic hit, and the church was shut down, so construction started when the property was inactive. They embraced technology so that services could be seen in the new space on a big-screen television when there were too many attendees. On August 21, 2022, Bishop Diane Jardine-Bruce blessed and dedicated the remodeled space, nave, and new stained-glass windows in a wonderful celebration at the church. 
Trinity has done wonderful things using an immensely powerful tool available to everyone: the Body of Christ alive in all of us, spreading the word to those around us.
Margie Gray retired in 2000 from the Missouri Department of Corrections as a Probation and Parole Officer and lives in John Knox Village with her dog, Jax. Margie attends St. Anne's Episcopal Church, Lee's Summit, and is currently working on a teen novel and picture books.